Uncategorized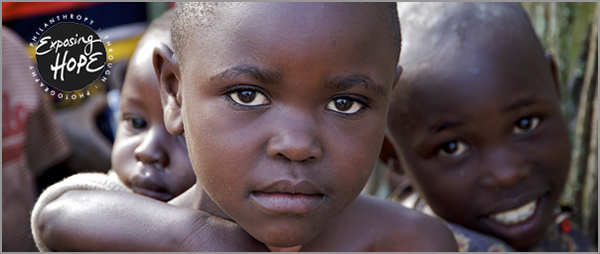 Welcome to Exposing Hope's new e-newsletter! In this month of Thanksgiving, we are sending our deepest gratitude to all of our supporters, volunteers, friends and family who have made Exposing Hope possible.In this year alone, we have served over 2,000 survivors of sexual violence in Eastern Congo in the past two years. Your donations have purchased land and constructed safe houses in the villages of Alimbongo, Nyamilima and Pinga; trained over 1,000 women in literacy, sewing, bread-making, basket-weaving, animal husbandry, and money management and savings; and funded three rotating credit funds of $8,000 empowering the women with credit needed to start their own small businesses. We have also recently begun teaching the women about repayment with interest, our goal being self-sufficient houses (the interest payment paying the salaries of the guardian and counselors) within two years.
We'd love for you to consider supporting our programs in the Congo and this month we're asking that each of you share our newsletter with five of your friends. Please help us spread the word! If you'd like to contribute to our work, you can do so here. Happy Thanksgiving!
_____________________________________________________________________________________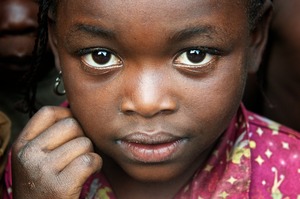 Be There: The Congo
Thanks to all who attended Exposing Hope's debut photography exhibition in San Francisco!  The event was a great success with over 100 people donating almost $10,000 for our safe house in the remote and vulnerable area of Pinga. The funds will be used for literacy and sewing classes for survivors of violence in the area. Thank you!
_____________________________________________________________________________________

Opportunity Collaboration In September, our founder, Alissa Everett, was honored as a Cordes Fellow at the Opportunity Collaboration where she spent four inspiring days at a problem-solving, strategic retreat for nonprofit leaders, for-profit social entrepreneurs, grant-makers and social investors.
_____________________________________________________________________________________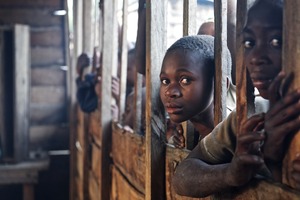 "Behind the Images"
We've been hearing from many of you that you'd like to hear the story behind our images and we're responding. This is the first edition of a new monthly audio series featuring the work of our founder Alissa Everett.  See below for her stories from the field and behind the photos.
Comments Off

on Giving Thanks
I just returned from an eye-opening trip to the Democratic Republic of Congo. I visited Exposing Hope's four safe houses and met with the women and our partner HEAL Africa; and with the increase in violence, also reported on the situation of displaced Congolese in Rwanda and in and around Goma. The impact of this violence has been devastating to the region, and the women and children suffer most.
Some of the women I met with were safe at the houses, others had been displaced, but all shared stories of what impact Exposing Hope's houses have made in their lives, the lives of their children and their community. Having a place to go to meet other women with the same challenges, learning to overcome obstacles and take away practical skills gives them hope and makes me realize how important our efforts are in each women's lives.
I'm sure you've heard of the continuing violence in the DRC, and the sad, systematic use of rape as a strategy of war. With the help of the efforts of the Exposing Hope's funding, over 200 women have significantly changed the course of their life and the lives of their children.
PLEASE JOIN US IN SAN FRANCISCO
Tuesday October 23rd
BE THERE: THE CONGO
Buy tickets online
I am inviting you to make a difference for the women and girls of the Congo who have been victimized, ostracized by their communities and are desperate for a helping hand. Please join me for an exhibition of my images from the DRC in San Francisco and in making a financial contribution to help these women. Even a small donation will make a difference. Attending this event, you will learn how even a small donation that goes directly in the hands of the local communities can make a life changing difference. Through photos and awareness, you will learn more about the issues and how you can help.
Recent fighting and budget cuts in Goma, a city in the eastern Democratic Republic of the Congo, have left many rape victims without access to life-saving medical care. Please join our emergency fundraising campaign by making a gift of $50 or more.
Help us give as much aid as we can to these women by asking everyone in your community to show their support. Our goal is to raise $7,500 to provide invaluable post-exposure medical care to recent victims of sexual violence in Goma.
Please make a special gift at this crucial time